Jimmy Wood from the Uddingston & District Club kindly brought this wee badge in. His son, Andrew, is a keen metal detector and while his usual finds include silver coins, and even musket balls most likely from Covenanter times, he was surprised to find this old Scottish Homing Union badge amongst his treasure from a day spent scanning ground in the Motherwell area.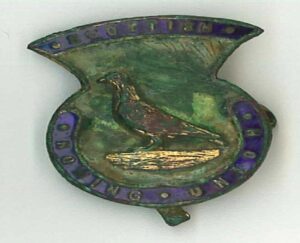 The only SHU badge I'm aware of was cast in metal and plain blue and white enamel around 1990, it was a simple round shape with a post and stopper lapel fixing. This one is clearly older and with a pin catch fastening. It is also much better quality than the 1990 version, a more detailed thistle shape and coloured enamel, which makes us think it may be pre 1960's. If anyone remembers when they were cast please get in touch, it would be interesting to know.
Linda Brooks, SHU Secretary.