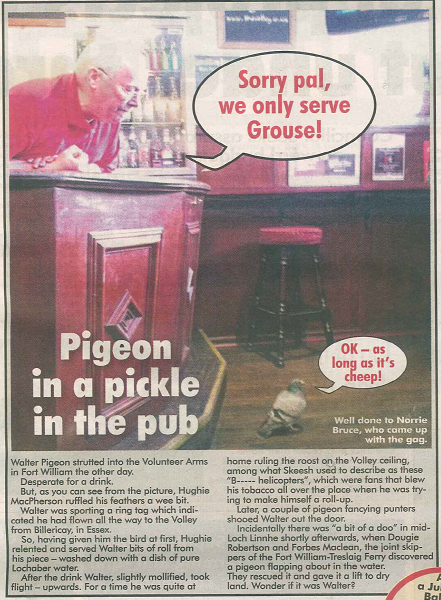 Peter Kennedy sent this photo and article. Peter first contacted me around 20 years ago and I was impressed to say the least to learn that for about the 10th year running he was the winner of the Old Bird, Young Bird and Combined Averages of the 'North West Frontier' Federation. It quickly became apparent, however, that living in Fort William there were no pigeon clubs so he was in fact the ONLY member of the 'North West Frontier' Federation. In reading the article I was highly delighted to note that the Federation membership has now increased by 100% for the 2012 season, this is clearly down in no small measure to Peter's excellent recruiting skills.
P.S. the article implies the poor bird was left to it's own devices, in actual fact Peter took it under his 'wing', reported it to the owner Ian Waggot and it is now most likely safely tucked in at it's home loft near York.
Linda Brooks SHU Sec.