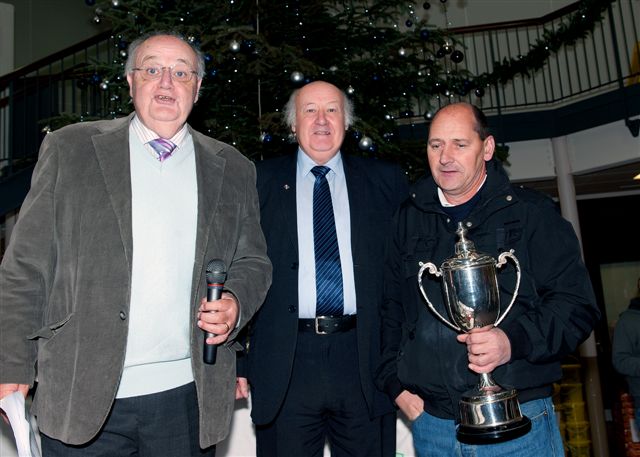 The Scottish Homing Union Show was held in Lawrie & Symington Agricultural Market venue in Lanark on the second Saturday in December. This pre Christmas show is growing from strength to strength each year with streams of fanciers coming and going all morning and afternoon and a healthy 700 plus entry of racing and show pigeons. Our judges, J Mechan, J Hood, W Holland, C Rae, J Bosworth, J Jamieson, J Peggie, J McCann and J McCord and their respective markers arrived early for morning tea and coffee and introductions. As in past years they were only given details of their classes just prior to judging getting underway at 10AM. There was also time for them to make new, and renew old, acquaintances and have photographs taken before making their way to the main arena. Since I managed to have my camera (the one I thought I lost after the last show) stolen in Paris this summer, I was relying on my i.Pad for photos, unfortunately, this too went temporarily astray on the day so I have Bill Traynor, who was marking for Billy Holland, to thank for lending me his phone to photograph the judges. My record with cameras is not good and while I didn't actually lose Bill-s phone, I apparently melted the case. Seems like a job for "health and safety"; There were so many photos taken that it overheated and, on removing it from his pocket later that morning, he found it quietly combusting. Still, the photos don't seem to have suffered any ill effects.
The birds were all displayed beautifully in the show arena which is spacious and well lit, perfect, in fact, for the purpose as are the pens kindly loaned to us by the Scottish pigeon Trust. This year, around four to five hundred people visited.. Many entrants enjoy viewing while the judging happened so both the show arena and the atrium where the stands are set up were busy all morning and afternoon.
The weather, which had threatened to disrupt roads earlier in the morning, eventually turned into a frosty but sunny day. However, the car park proved a challenge to some, including me, as it was a sheet of ice until about 9AM so a bit precarious for the old high heels (luckily not many of our members wear those, well not many that will admit to it) We are grateful to all of our members and officials who give up their time both on Friday to set up and on Saturday when it's all hands on deck to take everything back down again in the early evening as the last visitors leave.
Next year we hope to make some changes that will improve the format of the show. The raffle and the auction have previously taken place later in the afternoon but both will be brought forward to nearer 1PM. Some of our visitors have quite a distance to travel home so can't always stay to see the raffle drawn. However, this year, Isaac Fairlie was present and looked delighted that he won the first prize in the main raffle; £200 is a nice win so near to Christmas. All of the raffle winners were advertised earlier in the fancy press (along with the result) and should all have received their cheques prior to the holidays. Thank you all for supporting this fundraiser, our club secretaries do a brilliant job persuading their members to buy raffle tickets and some even purchase them for the club so this year it was good to see several SHU clubs win some money they could channel back for their own funds.
The show is also our platform for presenting the SHU Trophies. Judged each year by a small panel; Dr Lynch, Robert Cormack and George Pollock kindly obliged this year again, these trophies are hard won as claims are received that give details of some quite outstanding performances.
The McGhee Brothers Jim, "well kent" past president of the SHU and his brother, Father Eddie McGhee, came as our guests this year and were delighted to present the SHU Trophy winners with their awards.
Ron Creelie of Dalkeith is the 2014 recipient of the Prestigious Annie Ross Bowes Memorial Trophy This award is given to a person judged to have selflessly devoted time and energy to the sport of pigeon racing. Ron undoubtedly meets that criteria and is a deserving winner having worked selflessly for the betterment of the sport, the SHU, his Clubs and Federations over many years.
The award is based on testimonials that give our judges an idea of the work done by nominees; often these are unsung heroes happy to stay in the background. Many individuals work away quietly making life easier for their members with no thought of reward or thanks., so it is a pleasure to see them recognised in this small way with the presentation of the Annie Ross Silver Salver. If any reader knows of a deserving person I would urge them to contact the SHU office to find out how to put their manes forward.
This years SHU Show has, again, been very popular and well received by fanciers. It is of course a show for the fanciers and it is entirely thanks to them that it takes place. It's the Fanciers, Club and Federation Secretaries, their friends and families that make the day a success. A huge amount of work takes place during the year leading up to the show day and we are lucky to have many willing helpers. Whether buying or selling raffle tickets, being part of the committee, attending with a stand or simply attending with friends, helping set up the show, stewarding and clerking on the day or even staying behind to sweep up when the show's over, everyone has an essential role. On behalf of the Show Committee, THANK YOU ALL, WE CAN'T DO IT WITHOUT YOU!
Hope to see you all there again on Saturday 12th December 2015
Linda Brooks
Scottish Homing Union Secretary